Helen Rowlands
Artist
I have been painting for a few years now, and have had an exhibition at the Wallace Gallery a couple of years ago.
While living at Tauranga I won the Tauranga Art Society competition in 2008.
Since returning to Te Aroha I have studied at the Learning Connexion based in Wellington and received a Diploma.
I have also dabbled in sculpture which I enjoy.
After raring 4 children I am enjoying my retirement now so there is plenty of time to follow my creative urges.
View website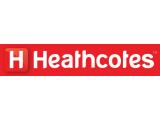 Heathcotes Appliances
Sponsor
Heathcotes are proud to support Morrinsville and the Herd of Cows project.
Heathcote Appliances was established in Morrinsville, and has been owned by the Heathcote family since 1946. The original store sold a wide range of appliances and supplies to the local community, and continues to provide the Morrinsville community with quality appliances and electronics at everyday low prices.
Heathcotes has continued to grow over the years to 4 appliance stores, a certified appliance service department and a specialised air conditioning/heat pump installation and service team.
To learn more about us and how we can help you, visit our website

To learn more about us and how we can help you, visit us here or instore:
https://www.facebook.com/HeathcoteAppliances/
View website