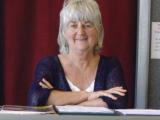 Marion Laurence
Artist
Marion Laurence has loved creating for ever.
She trained as a primary teacher, specialising in Art and English.
Her strength lies in drawing and she has done many commissioned black and white illustrations with painstaking details.
The medium she prefers is watercolour, using glazes and washes, delighting in the subtlety. Her inspiration comes from the observation of the finer details of nature and she is drawn to the preciousness of the sometimes overlooked.
Watercolour artists she admires and studies are Raymond Ching, Andrew Wyeth, and Joseph Zbukvic.
Marion has also painted numerous large murals and backdrops in acrylic.
She understands that a good painting must have sensitivity of light and atmosphere, but this can be an elusive truth.

View website
Luxton Families
Sponsor
to follow
View website