Paul Martin (Morrinsville Intermediate Cow)
Artist
After painting two cows (one in 2018 and another in 2019), I wanted to join the herd again! It would be great to leave something positive, creative and visual for the school which I attended. Something that would inspire future young Morrinsville Intermediate School students in their art futures.
I have 27 years experience as a Graphic designer, illustrator and mixed media artist. My company Riverstone Design Studio was formed in 2002, after the end of my professional rugby career.
View website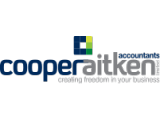 CooperAitken Ltd
Sponsor
CooperAitken is dedicated to supporting the local communities where we are based – Morrinsville, Matamata and Thames and when the Herd of Cow opportunity arose we were delighted to become the naming and founding sponsor. Supporting this project was a thank you to the local community, as we celebrated 100 years of providing Morrinsville with accounting services in 2014.
View website